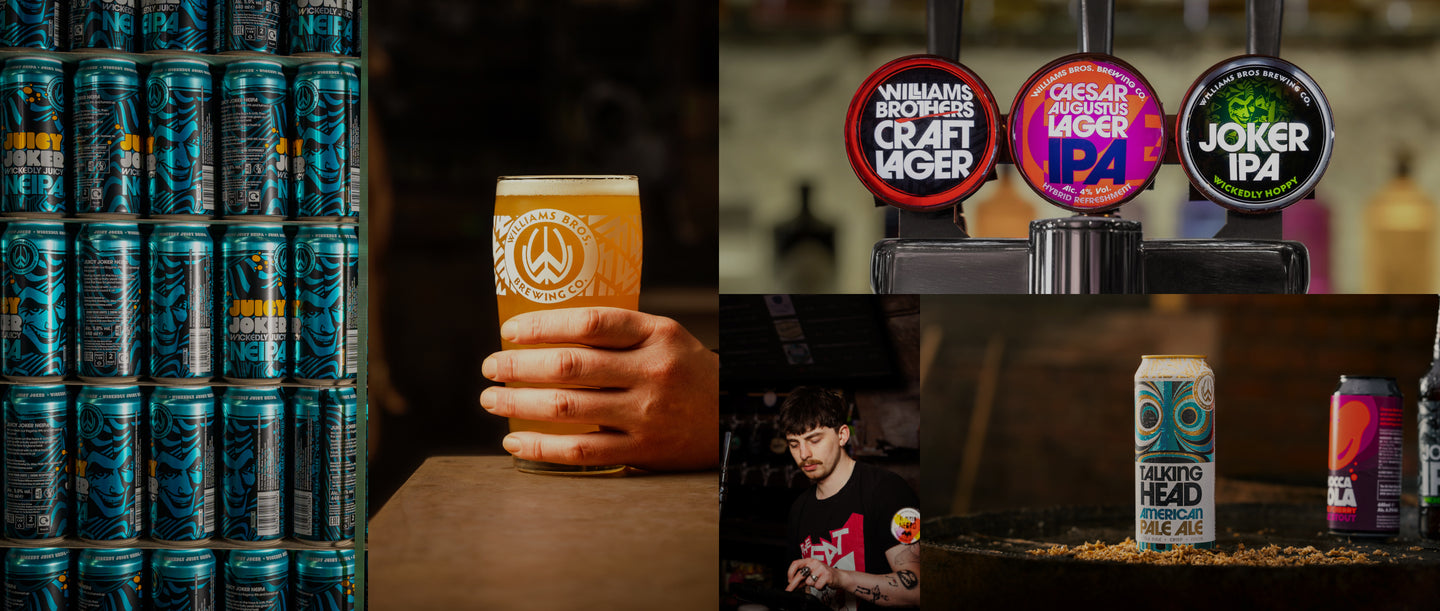 Get in touch
We have put together answers to the most commonly asked questions by our customers, click on the question to reveal the answer.
Gluten Free Beer Info

Our Che Guava, El Perro Negro & Chillax have ALWAYS been Gluten Free tested prior to release (below the 20ppm Gluten Free threshold). Joker IPA, Caesar Augustus, Fraoch, Seven Giraffes & Birds & Bees are also in the process of switching to GF, every batch that says "Gluten Free" on the label or base of the can will be tested to be below the 20ppm GF level prior to release. Please see our Gluten Free FAQ for full information on the process and labelling requirements.
Where is my order?

Please refer to our Ordering page to find out the most up to date information on shipping, process & useful links.
Are your beers Vegan?

We don't use animal product in the processing of our beer, so all of our small pack, cask & keg products are suitable for vegans excluding The Honey Thief & Coco Lola (which contain Honey/Lactose and listed as an ingredients on the label).
Where can I buy your beer?

Ask your local independent bottle shop or we sell to a lot of UK based supermarkets, try the beer isle at the biggest Scottish supermarket you can find. View supermarket listings.
Can I buy your beer in my country or have it shipped here?

Sadly we can't ship direct to people outside of mainland UK, however we have distributors in the following countries:
Can I sell/distribute your beers?
How much does postage cost?

Please refer to the Ordering page to find out our shipping costs. Shipping costs come down as order volumes go up as we absorb some of the costs. 
Do you do brewery tours?

No, we are not set-up to deal with visitors currently. However we may build a visitors center in the future.
USA Distribution

We have not exported to the USA in a number of years due to growing domestic demand. We hope to return someday once we can produce more beer and secure a USA import partner.
Can I buy beer from the brewery?

Beer cannot be purchased directly from the brewery unfortunately. 
Do you do a hop free beer?

Our Ginger Beer contains no hops. Our recipes for Fraoch & Alba traditionally contained no hops, however we still add a tiny 'token handful' of hops to the beer, this for some bitterness & to ensure the brew is categorised as a 'beer' in all the beer markets rather than for flavour.
Can you do bottling for me?

Quite possibly, contact us directly to discuss.
What are your registered company details?

The term 'Williams Bros. Brewing Co.' or 'us' or 'we' refers to the owner of the website whose registered office is:

Heather Ale Ltd, Eglinton Stores, Kelliebank, Alloa FK10 1NT

Our company registration number is Registered in Scotland No. SC150332.
Contact Us
Williams Bros. Brewing Co.
New Alloa Brewery
Kelliebank
Alloa, Clackmannanshire
FK10 1NT